Kitchen and Bathroom Luxury Vinyl Flooring
Franeys Carpet One Floor & Home in Visalia, CA is your local source for kitchen and bathroom flooring. Luxury vinyl flooring makes installing new flooring easier and faster compared to other flooring options. Our flooring professionals are here to guide you through our vinyl flooring selection and help you choose the best floor for your next project. In kitchens and bathrooms, flooring tends to be the first thing that gets updated, and we have you covered.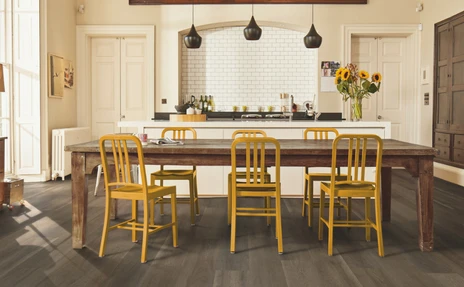 Flooring Ideas for Kitchens & Bathrooms
When it comes to your bathroom, we recommend choosing a waterproof option. For kitchens you can easily get away with a water resistant luxury vinyl floor. Commonly you will see a waterproof luxury vinyl installed in kitchens and bathrooms because it stops moisture from penetrating the floor. Waterproof floors stop spills at the surface, preventing moisture from seeping through to your subfloor. Your kitchen and bathroom see moisture on a daily basis, and your floors should be able to protect themselves. Luxury vinyl tiles are just as easy to clean as traditional tile, and are a much warmer and forgiving alternative to traditional tile.
As we mentioned before, luxury vinyl is able to replicate the look and feel of natural tile and wood flooring. The high-definition printed image layer is so detailed it is hard to tell the difference. Many tiles are even embossed in register so the surface feels like a real tile.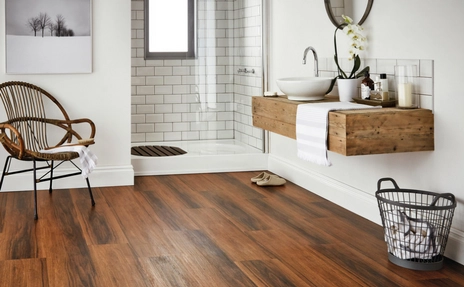 Many of the brands we carry in our showroom feature waterproof qualities. To learn more about the brands we carry, be sure to visit our luxury vinyl brands page.