Commercial Vinyl Flooring Options
Vinyl flooring is a great alternative to hardwood and stone because, although it looks like real wood or stone, it offers premium strength, wear resistance, and water resistance. But, is vinyl flooring strong enough for commercial settings? We at Franeys Carpet One Floor & Home in Visalia are here to tell you that, yes, there are vinyl flooring options that are suitable for even the busiest of commercial settings. Let us help you learn more about commercial vinyl flooring!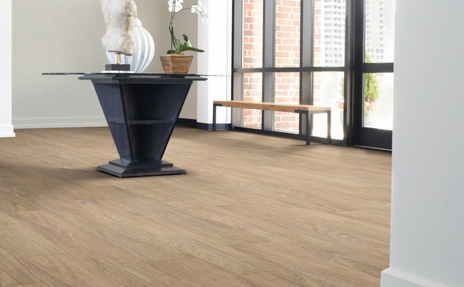 Why Choose Commercial Vinyl?
Traditionally, commercial vinyl flooring comes as sheet (rolled) goods at least 6' wide and can be cut to meet specifications for operating rooms, bathrooms, and other areas that require this type of installation. Today, however, there are many other areas that do not require covered sheet products, so luxury vinyl planks or tiles are a great choice.
Commercial vinyl flooring, like regular vinyl flooring, is specially-made to look like hardwood or stone. These looks are truly authentic, especially if you choose a commercial luxury vinyl floor. Nonetheless, commercial vinyl, because it needs to be strong enough to handle busy settings, is definitely more durable than regular vinyl. For example, many high-end vinyl floors feature 20 mil top layers to protect against scratches, scuffs, and other impacts. Most commercial vinyl floors, however, have a 20- 40 mil top layer! Commercial vinyl floors are virtually impossible to scratch or scuff.
In addition, some commercial vinyl floors are waterproof, and they are exceptionally strong and stable. They will rarely, if ever, chip, crack, or warp under external pressures. Commercial vinyl is therefore ready for anything life throws its way!
One of our featured commercial vinyl flooring options is Mannington Amtico. Amtico flooring features a strong five-layer construction, so it is perfect for any commercial setting. Learn more by visiting our Visalia store!