Quick Step's Quality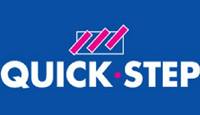 When it comes to quality laminate flooring, there is one name that stands out: Quick Step. Quick Step laminate offers special product performance technologies that make it one of the most reliable hard surface floors available today.
Like most laminate floors, Quick Step is made from four separate layers that are fused together. But, although the layered structure is similar, Quick Step does have two unique layers: the high density fiberboard (HDF) core board and the balancing layer.
The HDF core board provides extra strength to the entire floor, and it also resists moisture. As a result, Quick Step laminate is suitable in areas with some moisture. The balancing layer offers additional water resistance, as well as extra support and stability.
In addition, Quick Step offers a strong top layer that resists stains, scratches, scuffs, and even burns. The top layer is so resistant because of Quick Step's ScratchGuard advanced finish. This finish resists nearly every external stress, including heavy foot traffic.
What really sets Quick Step laminate apart from other laminate floors is its superior strength and stability. Most laminate floors do not have bottom layers that are strong enough to handle the heavy top layers. As a result, the laminate planks will collapse or buckle after years of use. Quick Step's planks, because they are fortified by the HDF core board and the balancing layer, will never collapse in the center. Therefore, choosing Quick Step means choosing a quality laminate floor that will last for a really long time!
To learn more about Quick Step flooring options such as the Dominion and Reclaime collections, visit Franeys Carpet One in Visalia, CA!
Quick Step Dominion

Dominion features hand-scraped and soft-scraped looks and textures. The planks have a 12mm thickness, and they are suitable for almost all home settings.

Quick Step Reclaime

Quick Step Reclaime offers the looks of worn, reclaimed wood floors. Reclaime

planks are also textured to feel like reclaimed wood. These planks have a 12mm total thickness, and they can handle commercial settings.